There's no doubt that T-Mobile has been attacking the other three major US carriers publicly, especially AT&T. Well today it looks like Verizon is T-Mobile's target of choice, T-Mobile's very own John Legere has posted an image of an ad on Twitter that's a punch in Verizon's ribs. You can see the ad above that reads, 'If you love overages and contracts, boy does Verizon have a new plan for you.' Then the ad goes on to describe those things in more details and tells you to ditch Verizon and sign up for T-Mobile's service.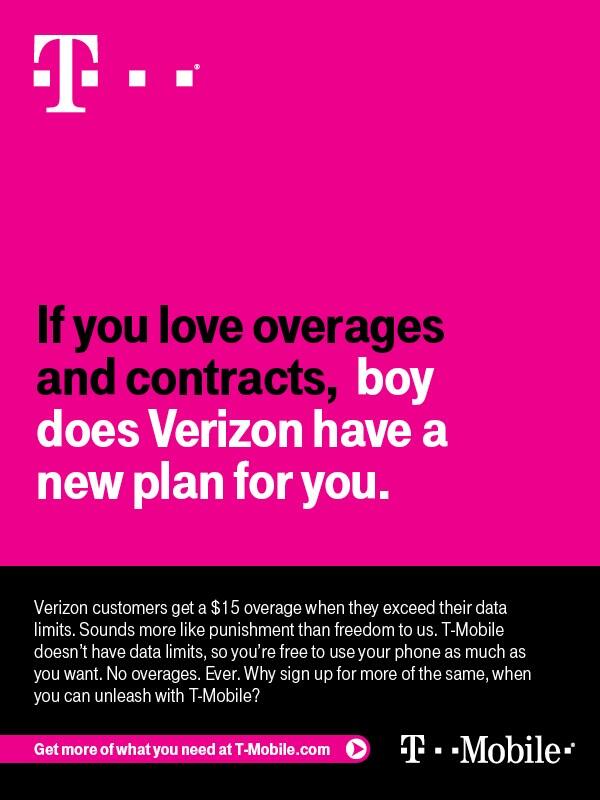 T-Mobile's new aggressive ad campaign is one of those things you either love or hate. Personally I think it's a great move for T-Mobile and in my opinion has caused them to quickly become the best choice for most US customers right now. This campaign can either keep getting T-Mobile more customers or eventually blow up in their face and at this point it's a 50/50 chance that only time will tell.
Do you have T-Mobile service? Is their new campaign making you second-think your current carrier? Let us know in the comments below.
Source | Twitter (John Legere)
(Author) - I am currently attending college to receive my degree in Computer Science with a pipe dream to someday work at Google. I love everything about android and smartphones and always love learning more about them or anything else tech wise. I also love developing Android apps and learning new types of code in my spare time. My current devices I use are my LG Optimus G and Nexus 7, Pebble watch is still on the way.
Latest posts by Nicholas Terry (see all)