I just want to say now, I am dying to see what is going to happen at the HTC event on September 19. Its going to be epic!
Every mobile phone manufacturer handles the developer community different. Some companies want to keep their products "locked down", while others like HTC welcome the developer community in with open arms. I will say that I do have HTCDev account and I have for a good while now. I utilized a few of their offerings and was extremely pleased.
Now onto the good stuff….
Upon hitting the HTCDev splash page on their site you can clearly see the three option on the right side: OpenSense SDK, Unlock Bootloader,  & Kernel Source Code.
We will start with the OpenSense SDK. HTC describes it as such:
OpenSense SDK

HTC Sense revolutionized the mobile user experience. The OpenSense SDK can revolutionize your app.

The latest HTC OpenSense SDK enables deeper integration into the HTC Sense experience. Creating richer, more dynamic apps has never been easier. Over time, HTCdev will be supporting new features and additions to the SDK.

The HTC OpenSense SDK provides the HTC APIs from within the standard Android SDK platform. It consists of an Android SDK add-on that can be installed through the Android SDK manager.
Bundled into the OpenSense SDK is some of the coolest mobile API features to date.
Examples are:
HTCpro MDM: HTCpro works with select partners to enable Enterprise grade security and Mobile Device Management solutions.
Common Controls: HTC has developed a suite of customized controls which are part of the HTC OpenSense UI framework.
Scribe Pen:  The Scribe Pen API consists of a rich framework for creating drawing apps using HTC Scribe technology.
Stereoscopic 3D: Stereoscopic 3D is implemented on the EVO 3D using a parallax barrier in front of a liquid crystal display.
Media Link HD: Project your favorite content wirelessly to any HDMI enabled display with a single gesture using Media Link HD.
Who could go wrong with those features?
I did play around with the OpenSense SDK for a while in Eclipse when I was developing a few Android applications. I was very pleased with the documentation and sample code provided. It was very easy to use and I most certainly WILL be building with it in the very near future.
Next up is the Unlock Bootloader option.
Unlock Bootloader

HTC is committed to listening to users and delivering customer satisfaction. We have heard your voice and starting now, we will allow our bootloader to be unlocked for 2011 models going forward. We plan on releasing the updates that will allow you to unlock your bootloader in the coming months, please keep an eye on this website for more details on which devices will be adding this feature. We are extremely pleased to see the energy and enthusiasm from our fans and loyal customers, and we are excited to see what you are capable of. HTC eagerly anticipates your innovations.
HTC has an Unlock Bootloader for over 60 devices. Also, devices launched after 9/2011 will be shipped with the unlock capability.
I have unlocked the bootloader of my Droid Incredible 2 using this method and it was extremely easy and straightforward. It was quick and I don't think it took me longer than about 10 minutes total. If your looking for some device freedom, there's no better way to go than an unlocked bootloader.
The last feature on HTCDev, though there are many more, is the Kernel Source Code download materials.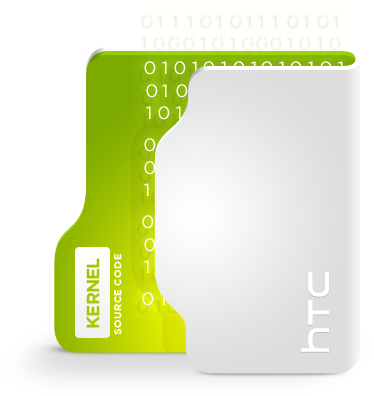 Kernel Source Code
You can download kernel source code, binaries, and other materials for your HTC Android device.
You can search by device, carrier, region, and Android version. With over 1,106 available downloads via the Kernel Source Code page odds are you will find your device.
As you can see in the picture below, the interface is extremely easy to use and understand. I did have to screenshot while i was zoomed out to fit everything in, so the text may seem a tad bit small.
The Kernel Source Code option on the HTCDev site has helped Android Development so much, its crazy. ROM developers couldn't work all the bugs out of their code without the help of this source.
The Sum Up
Overall I think HTC is making the most effort to connect with the Android developer community. They have definitively made the developer tools available for the masses and not just the "big" companies. As a general consumer and a developer, the HTCDev site has tools that I have utilized multiple times. Im amazed at every phone that comes out of HTC. I owned the first Droid Incredible, I currently own the Droid Incredible II, but if I had the money I would get a Droid Incredible 4G in a heartbeat. That would be a kick-ass review!
Nikolas built his first Desktop PC when he was just 9 years old. Ever since his obsession with technology has done nothing but grow. His first experience with mobile development was with the initial release of the Palm Pre in 2009. He experimented with rooting and mobile development. When Verizon released the Droid Eris in 2010, Nik bought it and his love for Android exploded. Since then he has been rooting, sideloading apps, and flashing custom ROMs on all his devices. Nik develops Android applications for a living. He currently has 4 applications on Google Play. In his spare time he can be found tinkering with his HTC Incredible 2, developing Android apps, and scouring the web for everything and anything Android.
Latest posts by Nikolas Pereira (see all)